Make your own DIY Disneyland Tea Cups inspired by the Mad Tea Party ride at Disneyland! These DIY mugs get a makeover Alice in Wonderland style with stencils and ceramic paint. This post contains affiliate links. Thanks!
The new Alice in Wonderland movie is out today, and some blogging friends and I decided to celebrate with a few Alice themed projects and recipes for you all! Just keep scrolling to the end of the post to see the other Alice posts. 🙂
Guys. It's no secret that I'm a Disney fan. I mean, I love the movies and characters and everything – but most of all, I'm a fan of Disneyland. So when I think of Alice in Wonderland, I think of the Mad Tea Party ride, of course. That little spot of the park has to be one of the most magical there – lanterns glowing over giant spinning tea cups with the Matterhorn in the background – yeah, that's my happy place.
I wanted to capture a bit of that magic with a little DIY, and these cute mugs are what I came up with. Now, every time I have a cuppa (or more likely a mug of cereal, cuz that's how I roll) it's a little more fun.
I picked a few of my favorite tea cups from the Mad Tea Party and translated those designs onto my new mugs. I really do like the way these mugs turned out, BUT the process was, honestly, a bit tedious and challenging. On the other hand, my husband said they might be the best thing I've ever made, so maybe it was worth it. Ha! In any case, hopefully you can learn from my (mis)adventures if you want to make your own DIY Disneyland Tea Cups.
Okay. Let's do this.
DIY Disneyland Tea Cups Supplies:
I think the trickiest part of this project was that the paint I used didn't play well with the vinyl stencil. The problem was that the paint stuck to the stencil, so when I pulled the stencil off, the paint would want to come up with it. To combat this, I used my craft knife around the edge of the stencil to separate the paint from the stencil before I pulled it off. This added an extra step, which kind of stunk. If I were making these again, I would try a ceramics marker like the Porcelaine 150 to see if they play better with the stencil.
(Oh! One more thing – the paint I used is not food safe, so I kept it on the outside only and away from the edge of lip of the mug.)
Start off by prepping your mugs by wiping them off with rubbing alcohol and setting them aside to dry.
While they are drying, cut out your stencils. I used my Silhouette to cut out the stencils, but a craft knife works great too.
When the stencils are cut, weed out the portion of the design you want to paint (a weeding tool is really helpful for this step).
Next, use transfer tape to pull up the stencil and apply it to the mug. I placed three stencils around each mug.
Use a brush to paint inside the stencil. It will take a couple of coats.
Trace the edge of your stencil with a craft knife to get a clean design.
Clean up any paint around the edges using your craft knife or a brush dipped in rubbing alcohol.
Air dry according to the instructions on your paint. Mine needed to air dry for one hour.
Bake according to paint instructions. My mugs baked at 350 for 30 minutes.
And that's it! Your DIY Disneyland Tea Cups are donezo.
Check out these other Alice inspired projects and recipes: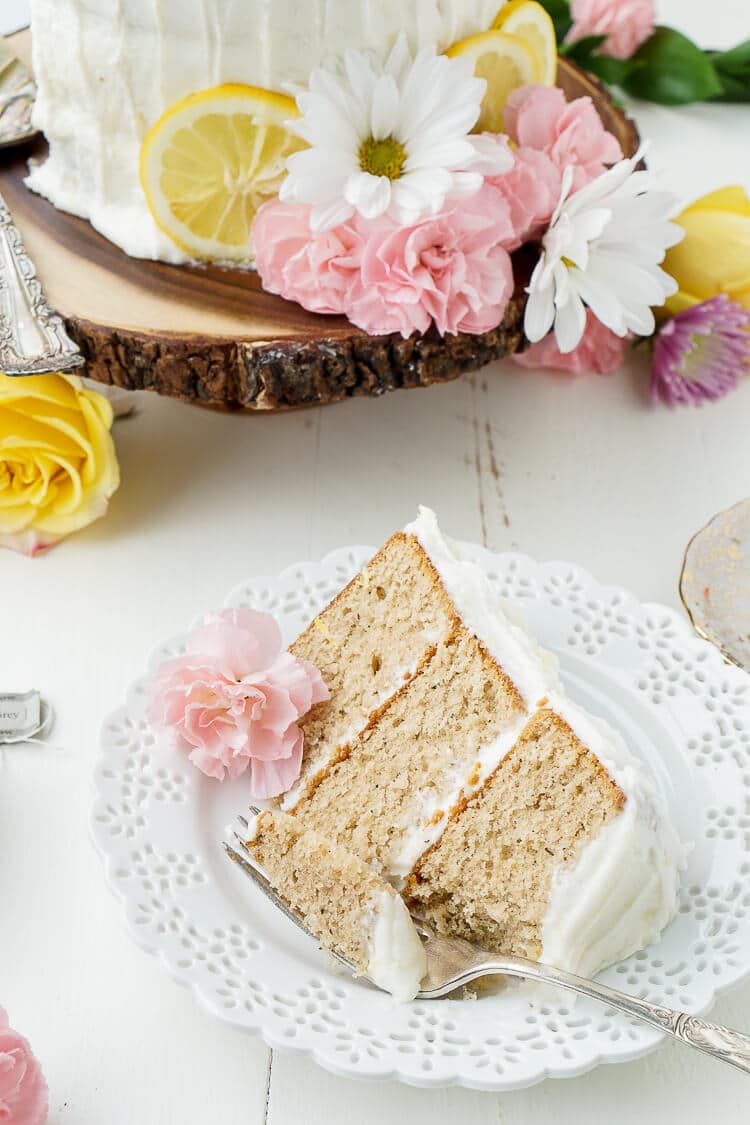 Earl Grey Cake with Lemon Buttercream by Sugar & Soul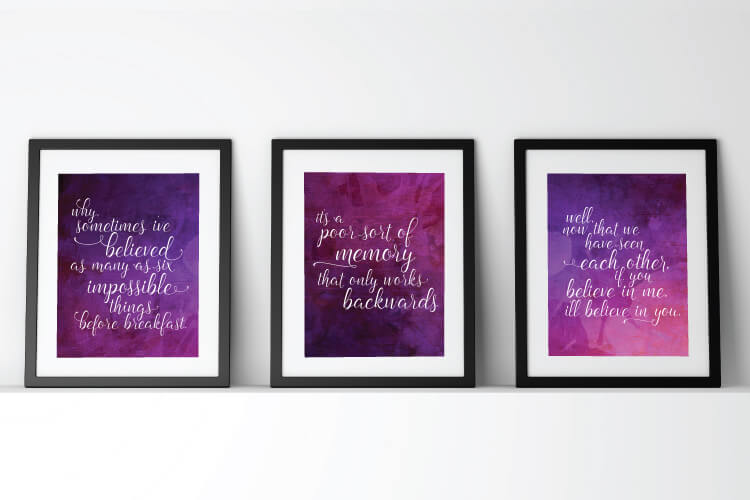 Alice Through the Looking Glass Printable Quotes by Hey, Let's Make Stuff
The Mad Hatter: Whiskey Jalapeño Strawberry Cocktail by Merlot Mommy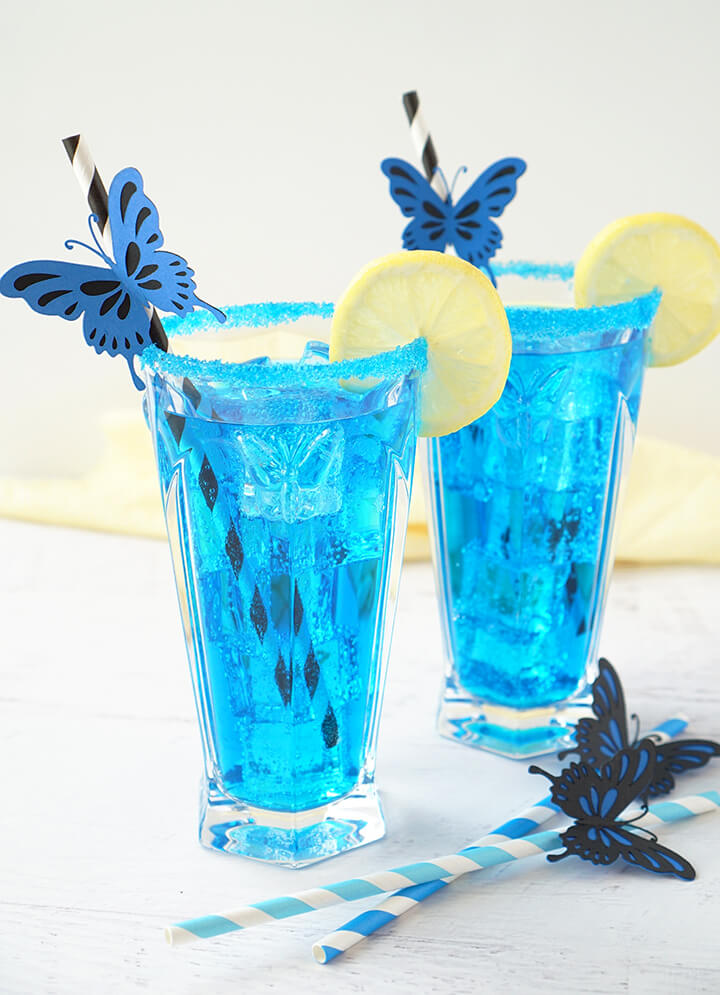 Electric Blue Butterfly Cocktail/Mocktail by Happiness is Homemade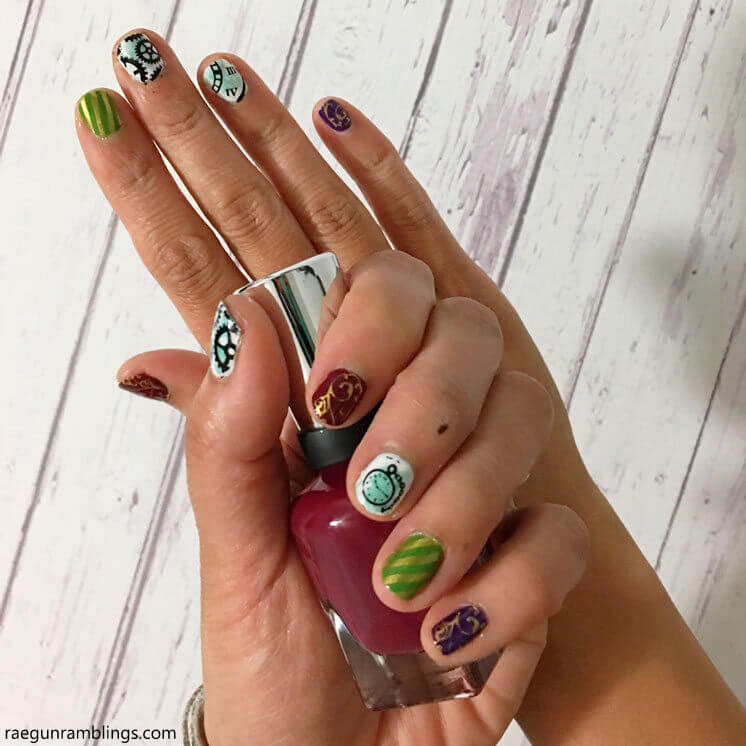 Alice Through the Looking Glass Nails by Rae Gun Ramblings
Happy Making!